Water sports with Club Med
Water sports at Club Med
Sail on a catamaran in Turkey, water-ski in Mauritius, windsurf in Bali, dive in the Maldives …Let's sail the seas looking for new sensations!
Our best resorts for water (or land..) sports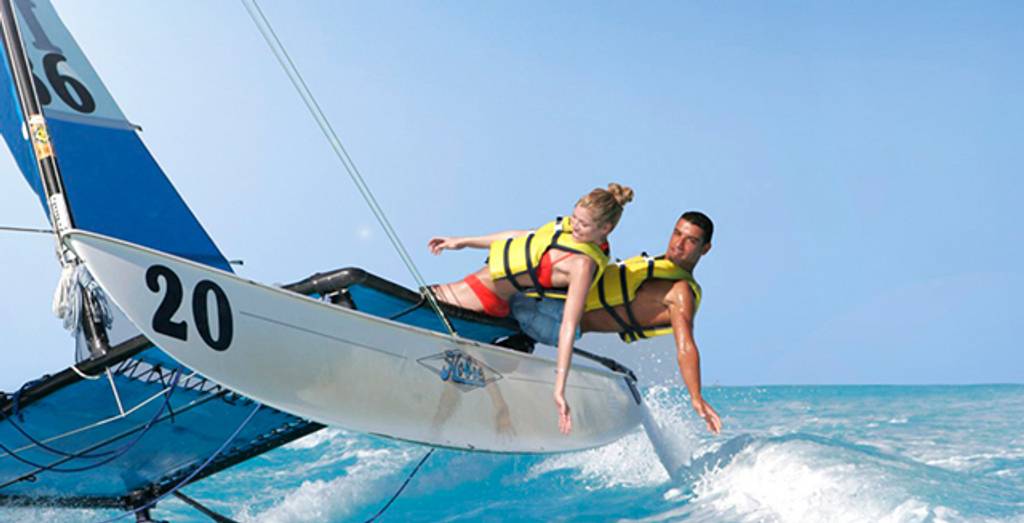 Who has never dreamt of controlling the wind and waves ? At Club Med, the oldest and most legendary water sport has carte blanche. In the intimacy of a monohull or on board of majestic trimaran, alone or in group - everything is planned to help you enjoy sailing as much as possible. So the question is - Will you start with the refreshing winds of Atlantic Coast or warm breeze of the Indian Ocean?
RESORTS WITH SAILING
Water skiing
A MUST FOR WATER SPORT ENTHUSIASTS
Just imagine, the sun has barely risen on horizon - You are enjoying the water, free from any land constraints, feeling the fresh sea wind. It's the great pleasure of both Water-skiing and Wakeboarding, two perfect activities to get into board sports. Best of all: it's included!
RESORTS WITH WATER SKIING
Scuba Diving
Discover a beautiful world in the depths of the ocean
Feel like a real wreck adventurer, swim above an amazing submarine canyon, encounter turtles and fishes. Scuba Diving is possibly the most beautiful way to discover a destination.
At Club Med, you have the opportunity to practice this activity* no matter your skill level, within sight and sound of experts from the "Professional Association of Diving Instructors" - the world's leading scuba diver training organization.
And of course, no need to bring your own equipment: everything is already set up for you!
*at extra cost
RESORTS WITH SCUBA DIVING
Windsurfing & funboard
Jump and jibe
If you are a long time GM and keen on windsurfing, you must remember THE Club Med resorts Kos in Greece, Foca in Turkey or St Lucia in the Caribbean? Now you're looking for the perfect spot to live your passion on the water - we've still got a few tips for you !
Or maybe you'd just like to try and have fun with a beginners lesson ?
Our Resorts will cater to all levels of windsurfing afficionados, from expert funboarder who just wants to glide, jibe, jump.. to the absolute begiiner looking for suitable gear and conditions !
IDEAL RESORTS FOR WINDSURFING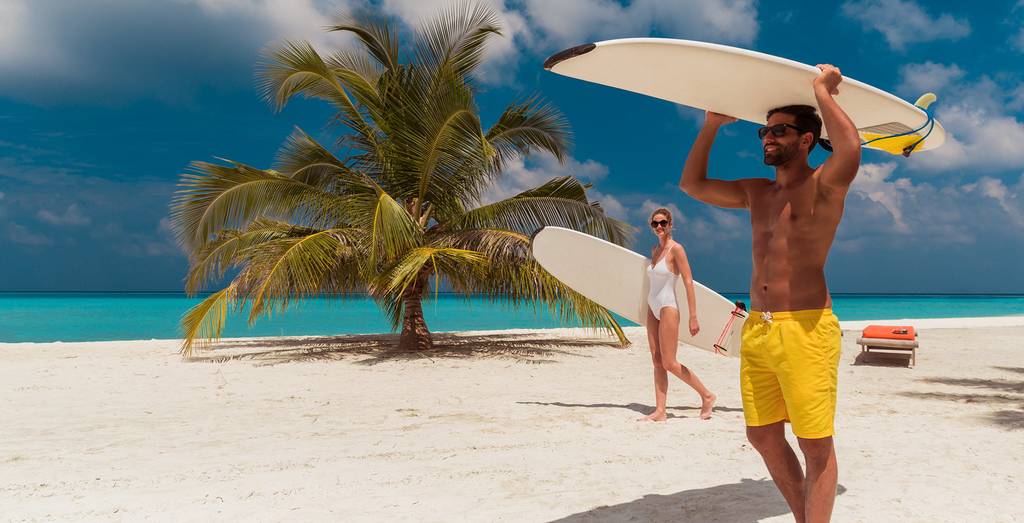 Experience surfing in one of the most stunning locations in the world at Club Med Kani in the Maldives.
The resort is located close to one of the most popular surfing spots called 'Ninjas' - make a day out of it with an excursion. Always wanted to learn how to surf? At Club Med our professional G.O's will help you discover a new passion for surfing.
OUR RESORTS FOR SURFING
Many more water sports to enjoy
Whether you're a first-timer or an experienced rider, we offer these fabulous activityies in the best spots on the planet, with specialist GO's.
§ Kite surfing*
§ Snorkeling
§ Wing foil, paddle...
*at extra cost